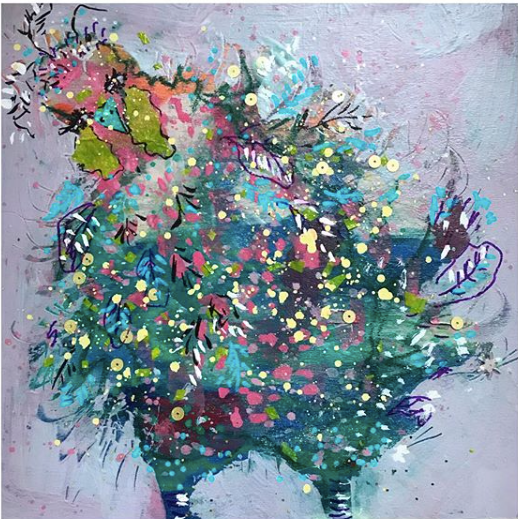 Clarice
---
DISCO CHICKENS ARE BACK!

Clarice is a Christian hen. First thing she does every morning is read her Bible and praise God for giving her a clean place to roost. She goes to church, wears a cross, and teaches vacation Bible school in the summer. She does not drink or smoke, but sometimes, after a rough day, you'll find her buying a bottle of Bailey's Irish Cream from the discount liquor store on the far side of town. When the cashier wishes her "Happy Holidays," she flinches for a moment because she always says "Merry Christmas," but then she remembers other people celebrate other things and she respects that. Clarice is a Christian hen.
Materials: Mixed media painted collage; acrylic paint, ink, 24k gold leaf, archival glue, gel medium, birch board. Will not require a frame, ready to go!
If you are looking at this and thinking the sparkles will shed, rest assured, it won't. It's sealed in.  
Size: Artwork 10"x 10"

Delivery: Ships Priority Mail. If mailing within US, it'll be there in time for Christmas!

Copyright: Original art becomes property of buyer, seller retains all reproduction rights unless otherwise agreed upon in writing in advance of purchase.