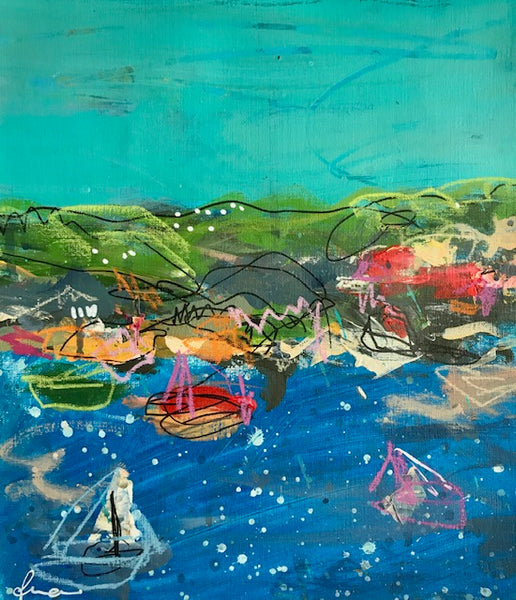 Dingle 7, L090120
---
Friday 1/31 only! Use promo code MULTISHIP at checkout for free shipping when you purchase more than one items from the 2020 Annual Sale. 
***
Title: "Dingle 7" (Catalog No. L090120)
Materials: Acrylic and collage on watercolor paper. 
Size: Artwork 11"x13"

Delivery: Hinge mounted in a 16"x20" white art mat. This means you can slip the piece into any ready-made 16"x20" frame, or, you can easily remove it from packaging for re-mounting with custom framing. All works on paper are lightly sealed, but given the nature of their surface texture, framing behind glass with a mat with a suitable air-gap is highly recommended.   
Shipping: Domestic orders will mail via USPS Priority Mail within 5 business days of purchase. Assuming all goes well, you will receive your new painting in roughly one week or less. International rates will vary, and any customs fees or duties are the responsibility of the buyer. 

Copyright: Original art becomes property of buyer, seller retains all reproduction rights unless otherwise agreed upon in writing in advance of purchase.
******  PLEASE NOTE. Adding an item to the cart does not prevent other buyers from purchasing it. It is not a shopping cart like a physical store. The item is officially yours as soon as you purchase it. Thank you!

* Want to pick it up in person? Use promo code LOCAL at checkout to wave shipping costs. Pickup during February gallery hours, Saturday 12-5, 1310A Chicago Ave, Evanston IL 60201. 

* Thinking about a second purchase? Free shipping when you buy two or more from the 2020 Annual Sale Collection in the same day. Don't worry if they are two separate transactions - just reply to the confirmation email and let me know to consolidate your orders.

Thank you!