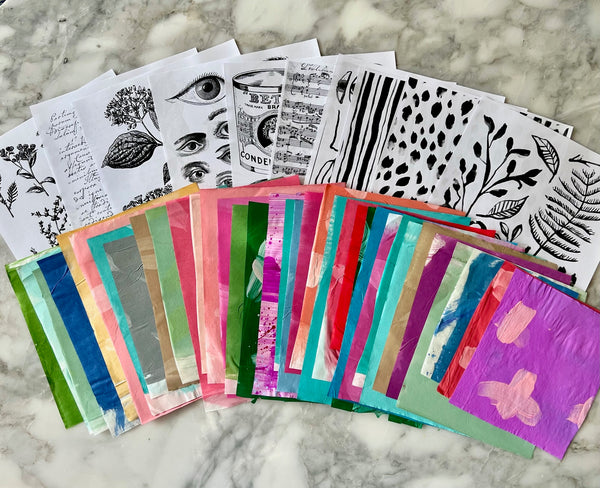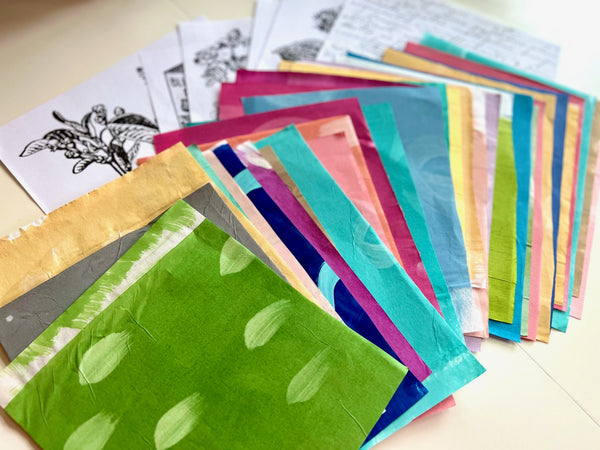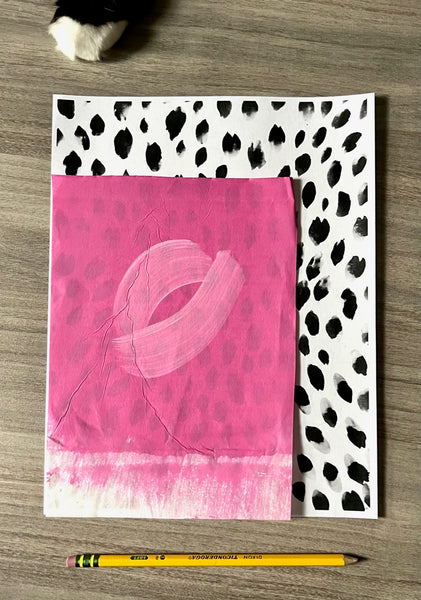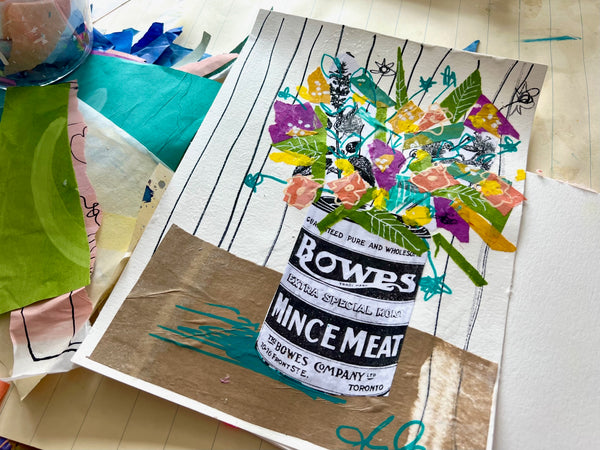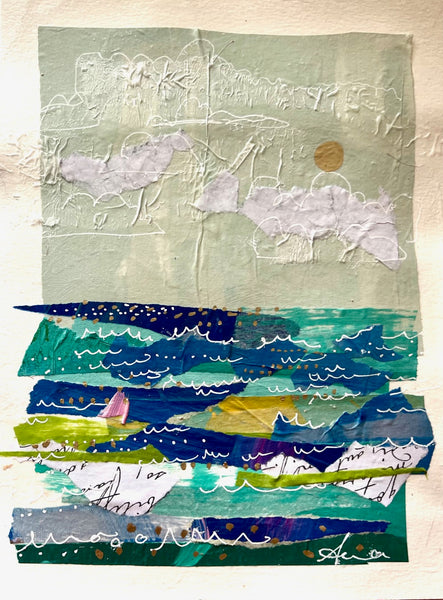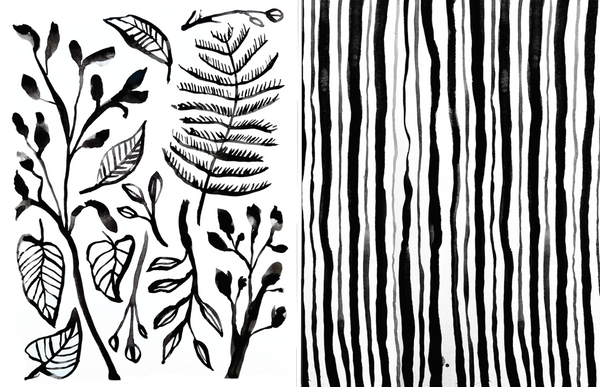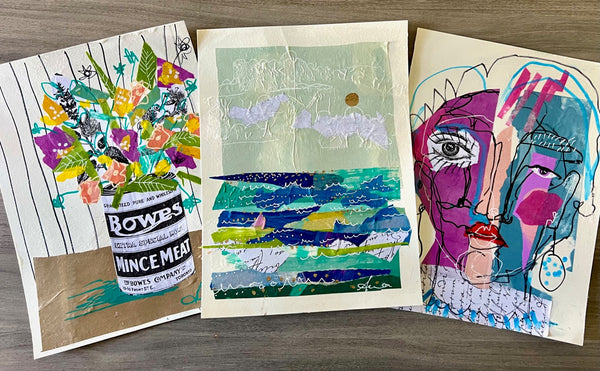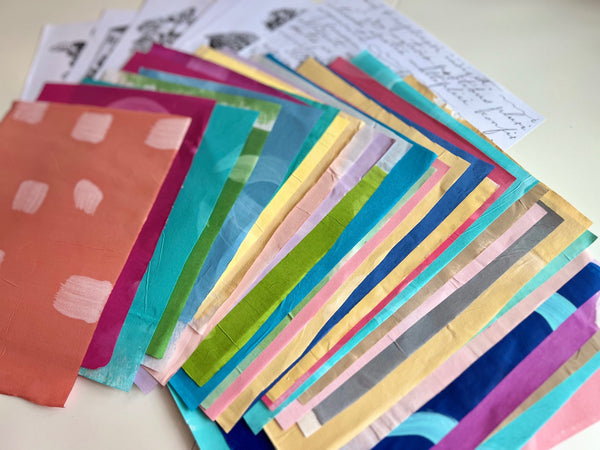 Caterpillar Paper Kit
---
Collage work is so much fun, but can be daunting if you don't have collage materials at the ready. I've got you covered!
Why is my hand-painted Caterpillar Paper the best collage material? 

Light as a feather and adhesive melts into it beautifully. No heavy glues or pastes needed.
Doesn't fade or bleed like tissue paper.
Made with rice, bamboo pulp, artist-grade paint, and water. No junky acidic stuff you find with digitally printed materials. 
It's taken me a long time to figure out the right ratio of paper and paint to make them. Even now, I ruin a lot in the process. The bigger problem is, it requires a lot of space and drying racks so I make each color in large batches to save for later. I was making art last week with Caterpillar Paper made six years ago. It's great stuff! Earlier this spring I was sharing my process on Instagram and some folks were very intrigued. People said, "I want this paper but I don't have the space or materials to do this at home - can I buy some from you?"
So here we are! 
Every day this spring I have pulled together another shade to add to the collection. This week I stacked them up and sliced them out into kits so you'll always be ready to collage when the mood strikes. I'm sure you will have plenty of ideas of how to use the materials in your kit, but in case you want a few more, I also put together three mini-tutorials that I am delighted to share with you. 
Each Kit Includes
30ish pieces of Caterpillar Paper - hand painted rice paper (every kit will have a different variety of colors). Each set is slightly different. When this collection sells out it will never be available again. 
10 pages of black and white laser-printer illustration patterns (vintage botanicals, sheet music, stripes, eyes, facial features, vintage cans...etc.)
One year online access to the Resource Library of Printable Goodies - 31 pieces of black and white collage fodder you can print at home. Many of them are my own personal drawings, all of them are open-source or out of copyright (read: you can print and use in your artwork without worry). 
One year access to three mini-tutorials showing how I like to use my collage materials - a face, a seascape, and a floral. These tutorials are under 5 minutes long and designed to give ideas. I hope to add more in the future!
What you will need to provide to make the art I share in the three mini-tutorials:
Mod Podge or matte medium, or some sort of liquidy adhesive.
Wide brush or plastic credit card (to apply the adhesive).
Permanent markers. Pencils, paint markers, or crayons would also be fun but are optional. 
I'd love to see what you create! Share your work using #caterpillarpaper. If you have questions, email me anytime at support@amandaevanston.com. 
How does this work?
When you purchase this kit two things will happen...
1. An envelope with the kit materials will be sent to you via USPS and will arrive, most likely, within a week or less.
2. An email will be sent to you within 24 hours with link and login information so you can view the mini-tutorials for inspiration on how to use your kit online. This link also takes you to the Resource Library of Printable Goodies. You will have access to the mini tutorials and printables for one full year!


Please note:
The email used in checkout is the one that will get access to the mini-tutorials (so if you have taken a class with me before, try to use that same signup email). You'll receive tutorial access within 24 hours after purchase and your kit will be shipped soon!


Is this a gift? If you are buying as a gift, please use the desired shipping address, and email support@amandaevanston.com with the email address of the gift recipient and I will update tutorial access. 



Free shipping

on orders being shipped to the contiguous U.S.! All kits will be shipped via USPS. Expect delivery 5-8 business days after your order is shipped. I'll do my best to be speedy! Warning: USPS can be rough on envelopes - I cannot prevent folding or bending (luckily the content will rebound as soon as you add glue!)


International shipping is available via USPS but delivery times may take longer. Any international tariff/customs/duty fees are responsibility of the recipient. Note: the automated shipping estimator can vary widely - if you are charged more than 10% over what I pay to ship, I will refund any over charge. 



Local peoples! If you prefer to pick up your package instead of waiting for it to be shipped, use the promo code LOCAL at checkout. Then your kit will be waiting for you to pick up at Stumble & Relish (1312 Chicago Ave., Evanston, Illinois 60201) 24 hours after purchase, starting April 29. I'll email you when it's there. See here for store hours.  This code is good for pick-up only - I am not making any deliveries at this time. While there, browse around - so much great stuff inside! (Can you tell it's one of my favorite stores?!)

No refunds or returns. Goods are one of a kind and all sales are final - I appreciate your understanding!
Why is is called Caterpillar Paper?
I learned about making art from painted tissue paper from Eric Carle - you may know him as the author and illustrator behind The Very Hungry Caterpillar. It was a five minute lesson but it changed my life. My materials and results have evolved over the years, but I'm still chasing the look of the vibrant, happy green caterpillar. We have many of his books and my kids read one before bed almost every night. They like the stories, but I'm all about the collage illustrations!