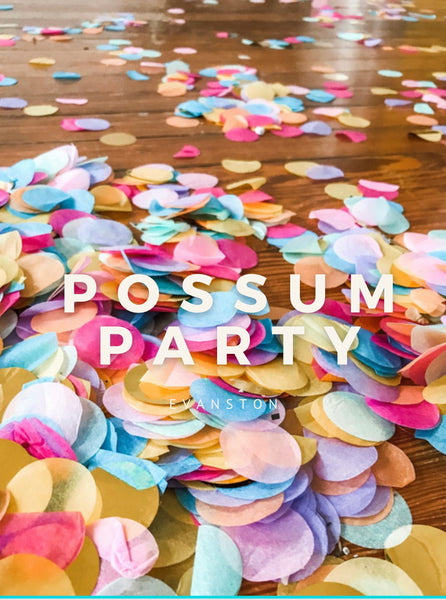 Possum Party | Evanston IL | Mar 25
---
Update: This event sold out! If you'd like to get on the waiting list, please email support@amandaevanston.com.
****
Friday, March 25, 5-7:30 p.m.
Join us for a Possum Party!
Calling all GPs who live in driving distance from Evanston, Illinois! Let's come together, make an easy, mess-free art project using old chaos layers, and enjoy one another's company. In addition to myself, Keri and Kiki will be joining us for the festivities. A light, casual dinner will be served. I CANNOT wait to hang out!
gLocation:
Freund Studio
1310A Chicago Ave. | Evanston, IL 60201
(There is metered street parking in front of the store and free street parking within a few blocks.)
Time:  Friday, March 25, 5-7:30 p.m.
Cost: There are limited spots available so we ask that you only sign up if you plan to join. Cost is $10/GP. To secure your ticket, purchase it here and bring your receipt with you (mobile is fine)! One ticket per GP please. (Note: There are no refunds unless we cancel the event.)
COVID Protocol: Masks optional. We're following current state and local mandates - do what makes you comfortable. We will not be requiring proof of vaccine or negative COVID test. That said, we held off on in-person events for two years because we were trying to be responsible and didn't want to get anyone sick, so please, do not mess this up and show up with a cough/cold/sniffle monster. Not cool. If you are at all sick with something that might be remotely contagious, keep the germs to yourself and party possum at home. We will see you at the next event!

Questions? Email support@amandaevanston.com. 
*****
FAQs:
Can I bring my husband? Kids? Best friend? Dog?
Nope. This event is for GPs only. If you are nervous about coming solo, don't be. Most people won't know anyone either. 
Where should I park?
Metered parking is available along Chicago avenue - pay at the boxes or use the Park Evanston app. There is also a public garage one block south, across the street from Trader Joe's. Do not park in the residential lot next to the gallery - they tow. You can also take the Purple Line and get off at Dempster, the gallery is one block west of the exit. 
I have a cold/cough/sniffle. Can I still come?
That's a hard pass. Don't do it. Please. Keep the germs at home. We held off on in-person events for two years to prevent people from getting sick, please, pleasssssse don't jinx this. If you need to cancel because of illness we will completely understand and promise there will be other opportunities in the future.  
Do I need to wear paint clothes?
Not this time! We'll do something creative but no painting for this one. 

I live in Seattle. Can I fly in?
Please don't. Canceled events happen a lot these days and it would be a shame to come all this way for no reason. We hope to host more travel-worthy events in the future.
Will there be other GP get togethers?
Yes! We are planning a few more of these small gatherings in areas where the most GPs live throughout 2022. Stay tuned to the group and GP express for announcements! 
I'm not sure if I can make it? Should I sign up?
Probably not. Space is limited and someone else will use that spot. Hold off on signing up until you know your schedule. We'd love to see you!