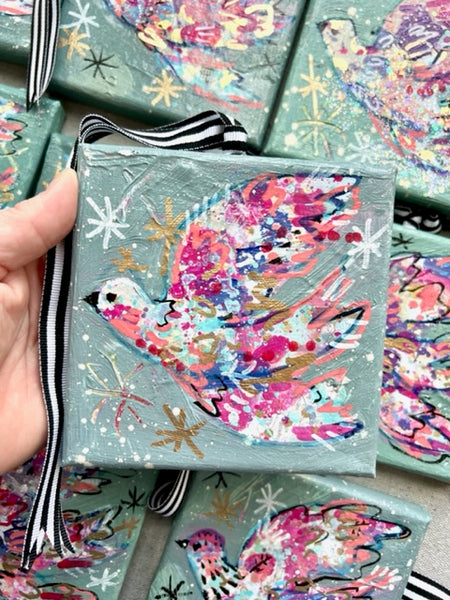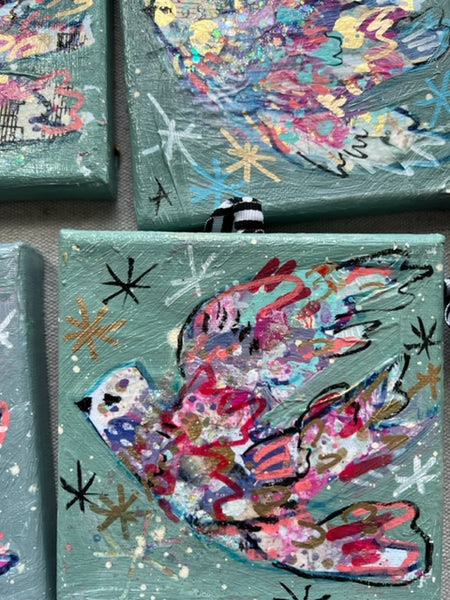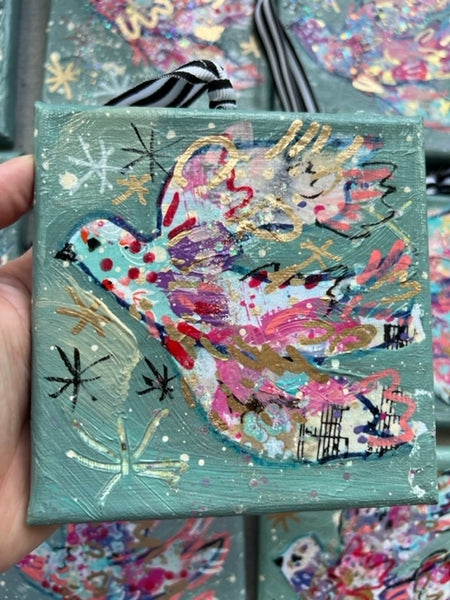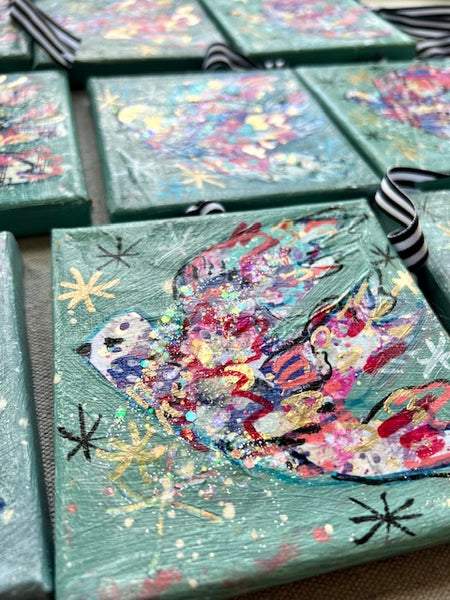 Hatchimal Fox, Doves 2022
---
Doves are an ancient symbol of hope. They are not only a bird but a harbinger of new beginnings. When things seem bleak, look for a dove and hold faith in knowing not all is lost.  Each dove in this collection is named for a real person who gave hopeful words to someone who needed them most. They are small, living tributes to what the world needs most right now – hope.
- Every dove is 5"x 5"x.75" on an artist-grade cotton canvas using archival paint and varnish. These birds are made to last for generations!

- Every readymade dove ornament is different and chosen at random within the collection. Doves are already wrapped and ready to mail (read: no requests for specific names or color shades, sorry!). 
- Every dove in the Hatchimal Fox collection is painted in a blue-green-grey hue, reminiscent of the shell of an exotic bird egg. In real life, a Hatchimal is a small plastic toy that comes in pink and purple shells that crumble to reveal a toy inside. I think they are obnoxious but my kids love them and gave this name so we're going rolling with it. 

- Every dove is named after someone who gave words of *hope* to another in a bleak time. These names are written on the side of each canvas. And while I do not sell doves to anyone on account of their names, I believe the birds are not assigned entirely at random. I cannot tell you how often recipients report back that they received the name they needed, not the name they wanted. 

- Every dove comes with a black and white stripe grosgrain ribbon. Don't want the ribbon and just see it hanging flat on the wall? No problem. Give it a few firm twists and the ribbon will unscrew. The canvas will easily hang on any standard nail. 

Because every artwork is different, your ornament will be a surprise. This is limited run and custom requests are not available at this time. 
Merry Christmas to all!
******
PLEASE READ: 
- Domestic orders will be shipped via UPS and will most often be delivered within a week of purchase, but this is a busy time for UPS and stuff happens. If you need a guaranteed delivery date, this item is not for you. International shipping is available delivery times may take longer. Any international tariff/ customs/duty fees are responsibility of the recipient. 
Local peoples! Do you live in Evanston, Skokie, Wilmette, or Winnetka and have a safe place to leave a parcel? Use the promo LOCAL at checkout - you'll skip shipping charges and I will drop it off no later than December 5th. I cannot schedule specific times for pickups/deliveries right now, but I'm happy to leave it with you mailbox/porch spot of choice!