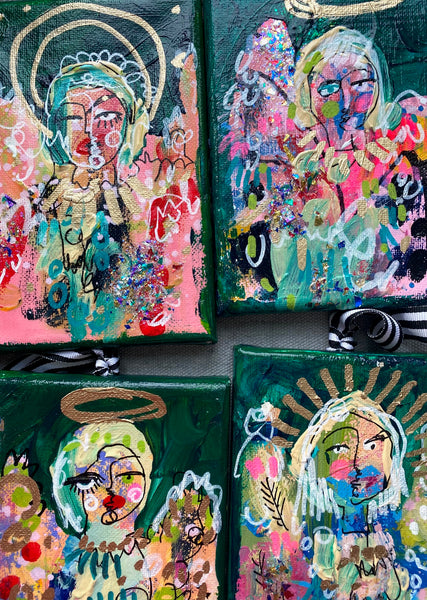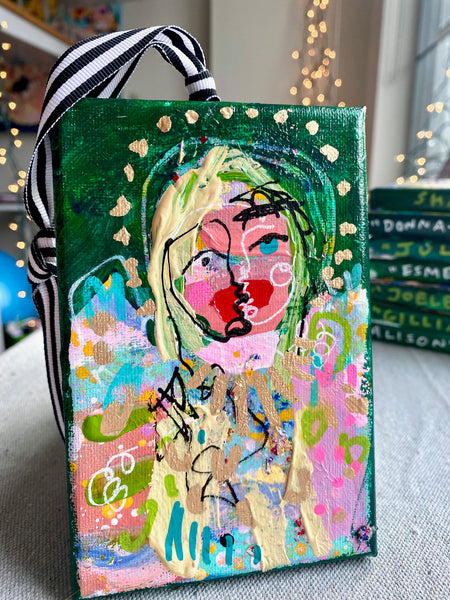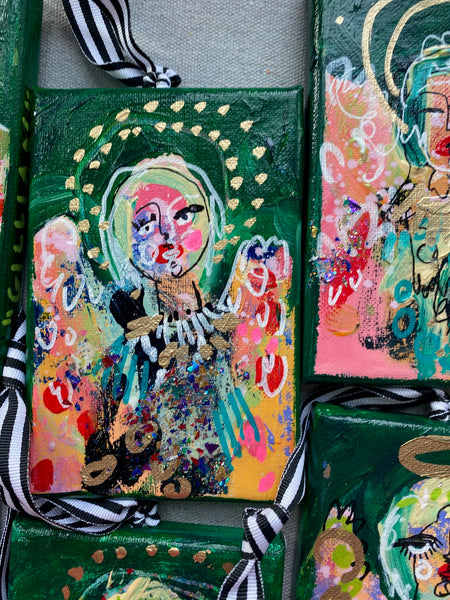 GREENS - Custom Name Commission Angels
---
Have you ever wanted to commision a small work of art in tribute to someone you love or have lost? Since 2019, I have a offered a holiday collection of small angel paintings, each named after someone who appeared in a time of darkness (thank you to everyone who contributed to the naming process!). Every year they sell out, and every year people ask me for angels with specific names. Until now, the answer was no. But just for this week, you can pre-order a custom angel; you pick the name and the color. The rest is up to me!
How does this pre-ordering process work?
You select an angel based on color.

At checkout you'll see an empty box to add your name(s) - please include the name(s) as you want it printed on the side of the canvas. Do not leave the note blank or I will assume you do not want your angel named. 

By November 30 or sooner, I will mail your angel(s) to your address - domestic orders should arrive by the first week of December with wiggle room to spare!
Can I order more than one angel?
You can order up to five angels from this pre-sale. 
Can I see the specific angel before you add the name?
No, the surprise is part of the fun!
I like being surprised by the name and color, will you sell the angels the old way again?
Yes. I love painting angels, and this custom sale will likely be a one-time event. Stay tuned for future offerings. 
Why do you paint angels?
Throughout history, angels have been sent to bring messages of hope. Comfort. Service. Praise. Warning. Feel lost? Need guidance? Look for an angel. Interestingly, we have not been given many specifics on what angels might look like. With this in mind, I have spent every day for several months painting the images of angels who I would like to see most in my hour of need. You'll find no pastel robes or puffy clouds here. These angels are brightly colored and of another world!  
Okay, I can't see the exact art until it arrives - but can you give me specifics on how the artwork is made?
- Every angel is 4"x 6"x.75" on an artist-grade cotton canvas using archival paint and varnish. These angels are made to last for generations!

- Every angel in the Green angel collection offers figures in shades of emerald, forest and fresh kale greens. You will find each angel is different and features a variety of colors and textures; paint, collaged papers, and some even sparkle!

- Every angel comes with a black and white stripe ribbon. Don't want the ribbon and just see it hanging flat on the wall? No problem. Give it a few firm twists and the ribbon will unscrew. The canvas will easily hang on any standard nail. 

Because every angel is different, your ornament will be a surprise. Many people have told me that their angels watch over them throughout the year and serve as a source of guidance and good luck. Hang them on your wall or your tree - the angels choose their homes better than I ever could. 
Merry Christmas!
******
PLEASE READ: 
- Domestic orders will be shipped by November 30 and can be expected by early December. Non U.S. orders are less predictable and I make no promises, but I will do my best to see that your order will arrive before Christmas!
-I don't offer refunds under any circumstances, including for names incorrectly entered at checkout. Be sure to enter this information carefully!