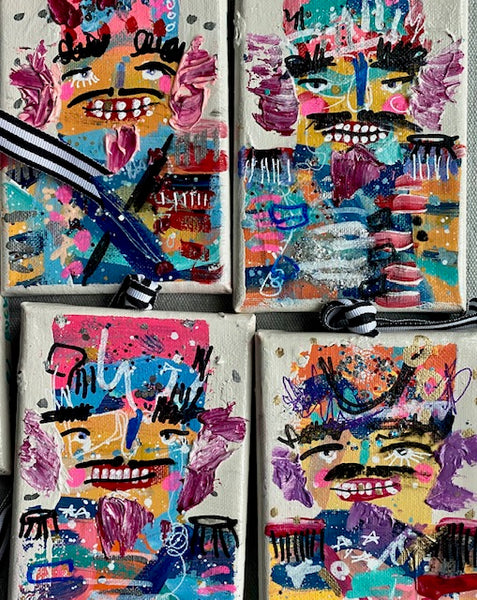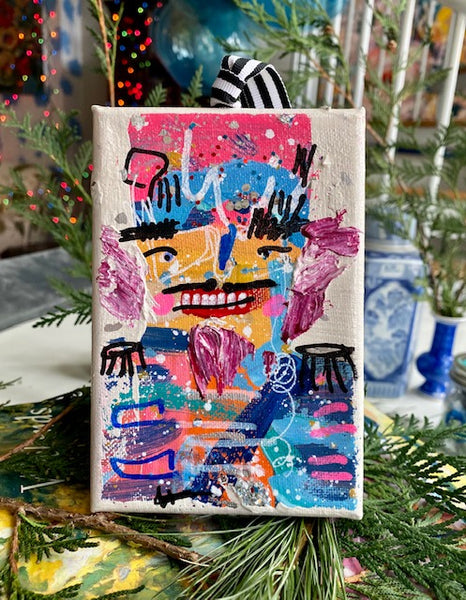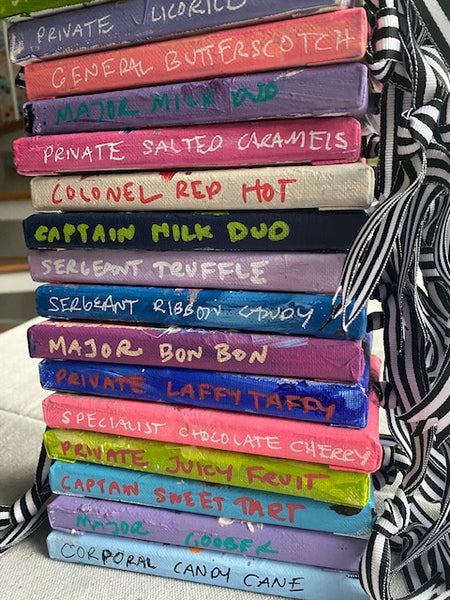 Waltz of the Snowflakes White
---
Did you know nutcrackers are supposed to be slightly scary looking? It's true. According to German folklore, true nutcrackers are given as keepsakes to protect your home and bring good luck. They symbolize, "Power and strength and serve like a trusty watch dog guarding your family from evil spirits and danger. A fierce protector, the nutcracker bares its teeth to the evil spirits and serves as the traditional messenger of good luck and goodwill." In 1892 they were immortalized in Tchaikovsky's Nutcracker Ballet, and now live on as a key player in any holiday season. My sincerest hope is that these colorful, sparkly, slightly-deranged little faces find their way to your home. On your walls, or on a Christmas tree. They were made with love and a touch of holiday magic!
- Every nutcracker is 4"x 6"x.75" on an artist-grade cotton canvas using archival paint and varnish. They are made to last for generations!

- Every readymade nutcracker ornament is different and chosen at random within the collection. Nutcrackers are already wrapped and ready to mail (read: no requests for specific color shades or names, sorry!). 
- Every nutcracker in the WALTZ OF THE SNOWFLAKES WHITE collection offers figures in shades of cream and winter white. You will find each nutcracker is different and features a variety of colors and textures; paint, collaged papers, and some even sparkle! 

- Every nutcracker is individually named. Inspired by the ballet and soldiers in The Land of Sweets, you'll find names like "Major Marshmallow" and  "Captain Peppermint" etc.. These names are written on the side of each canvas. 

- Every nutcracker comes with a black and white stripe grosgrain ribbon. Don't want the ribbon and just see it hanging flat on the wall? No problem. Give it a few firm twists and the ribbon will unscrew. The canvas will easily hang on any standard nail. 

Because every nutcracker is different, your ornament will be a surprise. This is limited run and custom requests are not available at this time. 
Merry Christmas!
******
PLEASE READ: 
-No more than four per person please. This is on the honor system but I can see if you do it. Don't get on my naughty list! 
-Mail is weird right now. Your ornament will be mailed in less than 3 business days. Probably faster. I aim to have all domestic shipments arrive no more than one week from purchase. Please be patient. The mail is weird right now and some hubs are backed up. I don't have any control over that part. Thank you for understanding!